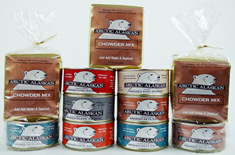 Available in 6 varieties, our wild Alaskan salmon is hardwood smoked, hand packed, and traditionally canned for that old fashioned flavor, while utilizing the technology of today.
Don't forget to try our new "Arctic Pacific" brand gourmet Albacore Tuna. You've been asking for it & we've been listening. We've teamed up with Pilothouse Seafoods to provide you with the best gourmet canned albacore we could find! Two Brands ~ One Family
A & J Fisheries is a family owned and operated commercial fishing business in Southeast Alaska. All of our salmon are harvested in the cold clean waters of Southeast. Our method of fishing is known as "trolling", which is a hook & line fishery. All salmon are brought onboard individually, one fish at a time. Each fish is handled in a professional manner to ensure the highest quality product. Only premium grade whole fillets are used.
We sell what we catch, therefore, we are truly limited to "stock on hand".
Good and Good For You!!!
Wild Alaskan salmon are an excellent natural source of Omega-3 fatty acids and high quality protein, both essential for optimal health.

As wild salmon, they swim freely and feed on natural foods such as krill, herring, squid, and other marine life, while growing to adulthood at their natural pace. Remember, wild salmon do not have any added color or dyes, so you will see the natural color of the meat. Depending on the species and maturity of each fish (there are 5 species of wild pacific salmon), the meat color can range from ivory, to rose, to orange-red.

There's no doubt about it! In Alaska, we do not have any salmon farms. Wild Alaskan Salmon is definitly a "Product of the USA"
As commercial salmon fishermen for more than 20 years, our goal is to provide a superior product available directly to the consumer. The highest quality of our products is our top priority. We hope that you will take this opportunity to enjoy the great taste of our Wild Alaskan Salmon and we are confident that you will taste the difference!
NEW...CHECK OUT OUR NEW FACEBOOK PAGE! https://www.facebook.com/galleytable/